Water Damage Equipment Rentals
Rent Water Damage Cleanup Equipment From Us
WEST COAST RESTORATION is a proud specialist when it comes to handling all of your flood and water damage clean up and restoration needs in Southern California. We offer emergency service 24 hours a day, 7 days a week.
If you are unfortunate enough to encounter broken pipes or a sewage backup at your office or home, call us for water damage restoration and drying equipment to restore your business or residence to like new condition.
West Coast Restoration conveniently works with all major insurance carriers. Contact our team as soon as you notice any leakage or backup problem to reduce your water damage liabilities and expenses. Wet walls, wet floors, wet furniture, no problem!
We Work With All Insurance Companies
We Proudly Offer Restoration Equipment Rentals
Aqua Sensor– This tool is widely used by water damage restoration companies to track the boundaries of moisture in wet ceilings, carpets as well as floors and walls.
Air Mover or Carpet DryersAir Mover or Carpet Dryers (blowers) – This is a very important piece of water damage drying equipment. It has the ability to dry carpets 4 times faster than normal. It also moves large amounts of air under and over wet carpets creating evaporation that results in rapid, efficient drying and faster restoration of your home or office.
Dehumidifiers– This piece of equipment is a must in water damage restoration. Dehumidifiers take out all the moisture from the walls and floors and will lower the humidity in the air otherwise known as condensation, creating an environment where mold and mildew can't grow.
Truck Mount Unit– This powerful piece of drying equipment is used to extract large amounts of water quickly and under very strong pressure which gives it the speed to dry your home or office faster. Smaller water vacuums are available for use on smaller water clean up jobs and carpet cleaning rentals.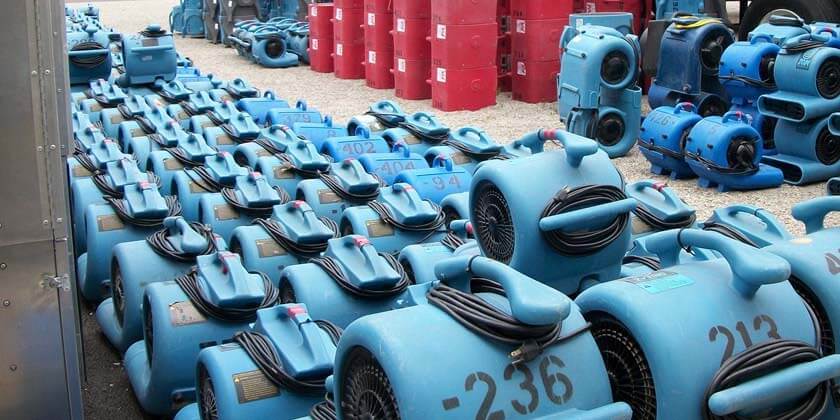 Inject Dry System- This is a special attachment to an air mover that is used to dry beneath wet kitchen cabinets, vanities and other hard to dry spots that water saturates into.
Air Scrubber- This piece of equipment is also known as a negative air machine. It is a very important and effective tool used to clean the air from mold, dust and sewage particles that accumulate after leaks and sewage overflows. This machine is continually filtering the indoor air and depressurizing the affected area to prevent the spread of bacteria and mold growth. This is used widely in mold removal to quickly improve air quality, creating healthier conditions.
Infrared thermal cameras- Infrared Thermal CameraThe presence of moisture in buildings and sub-structures from leakage or condensation can have serious consequences. With an infrared camera, water damage is easily detected. From start to finish, thermal cameras can help us simplify water damage and remediation jobs.
Hardwood floor rescue mats- For wet hardwood floor drying we use Dri-Eaz Rescue Mats. The mats and air movers are attached directly to the damaged wet wood area and work with great speed to restore hardwoods.